It's fun to do Christmas décor DIY. The holidays always get me in the mood for crafting, and these DIY projects will make your home festive in no time.
1. Giant Lollipops
Source Smart School House
All I have to say is "wow". This idea is so clever and is totally do-able! You don't have to have mad DIY skills to make this.
2. Frozen Ice Balls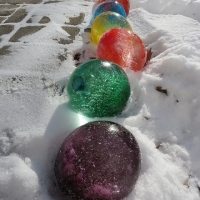 Source Group Recipes
Take advantage of the cold weather and amaze your friends and family with these creative ice balls. You simply fill a balloon with colored water and freeze. Kids will love these!
3. Plastic Cup Snowman
Source Colorcitos
What do you do when you want a snowman but you live in a warm climate? Or you want an indoor snowman and he'll melt? You make your own, of course! This is a good example of Christmas décor DIY because you can't fight against nature! But, you can still celebrate with the classics. This is a simple way to include frosty in your decorations.
4. Giant Christmas Ornaments
Source DIY & Crafts
These giant balls would look adorable hanging in your front yard or porch. They're pretty simple to make. The ornament itself is just a big plastic ball- how creative is that? There are instructions and a video when you click on the link.
5. Wooden Lighted Stars
Source Duke Manor Farm
What I like about this Christmas Décor DIY is that even during the day your yard will look festive. At night it will look magical. This is an easy DIY. One that you can reuse year after year.
RELATED: 15 DIY Christmas Gifts You'd Actually Want To Receive Yourself
6. PVC Pipe Wreath (Crate and Barrel Knock-off)
Source A Beautiful Mess
This whimsical wreath harnesses the power of PVC pipe and spray paint. It's a knock-off of Crate and Barrel and is easily done at home.
7. Merry Sign
Source Homey Oh My
I love Christmas Décor DIY that looks good during the day and at night. This project fits the bill. The sequins in the gold filler make the letters festive during the day and sparkle at night.
As an added bonus, the post also shows you how to make these adorable hanging pinecone decorations as well.
8. Dollar Store Wreath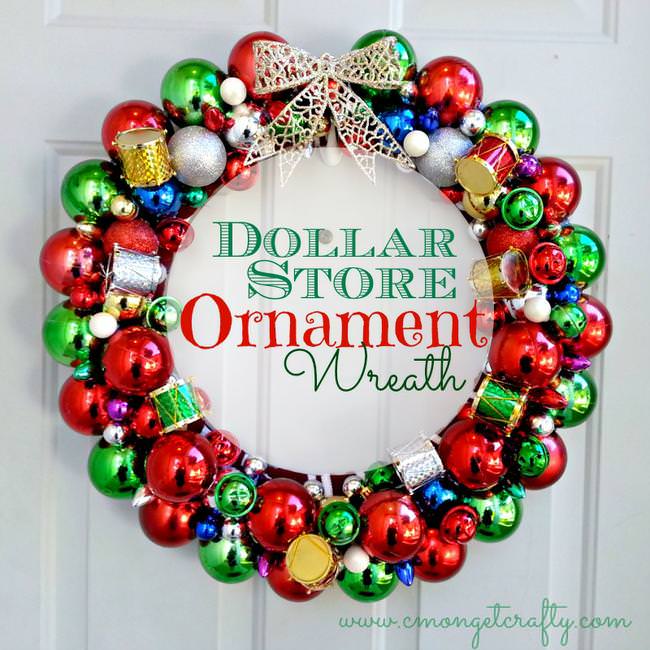 Source Tip Junkie
Everyone loves a good Dollar Store project. Especially when they turn out nice! When you make your own Christmas décor DIY, then you have the added advantage of making sure the colors you use match the décor you already have in your home.
RELATED: 11 Dollar Store Crafts You Won't Believe Are DIY
9. Birch Log Lights
Source Make + Haus
After pine trees, birch trees are a Christmas wood classic. If you aren't lucky enough to live near where birch grow, you can easily buy them at craft stores like Michaels. This makes a great base for your holiday table centerpiece.
10. Pallet Wood Christmas Tree
Source Jolene's Crafting
The nice thing about this relatively easy Christmas décor DIY is that it's as simple as sawing and painting the wood. The pallet is already held together for you. Add lights and a stand and you're good to go.
11. Paper Garland Cut-outs
Source Proper
Paper is obviously affordable. With a little bit of time, you can make something adorable for your home. This garland would also hang nicely over a window or around a Christmas tree.
This Providence House Tip: The post suggests using a downloadable template, but I've made these before simply using a cookie cutter and it's turned out great!
12. Giant Gingerbread Man
Source Hallmark
How fun would this be in your yard for Christmas? Although it looks like it would be a complicated project, it's actually pretty easy to do with the clear instructions this post gives. Try it today!
13. Lattice Advent Calendar
Source Proper
Any home improvement store will carry affordable lattice. The muslin bags can be purchased at a craft store. They made the designs on the bags with paint and stamps. An adorable way to countdown the days till Christmas!
This Providence House Tip: I have four kiddos. We've done this every year and the kids really look forward to each morning when they can open up the next bag. For $20 at the dollar store I've found enough small candies and trinkets to fill up each bag with four little prizes. A little bit of effort goes a long way to make amazing memories.
REALTED: Birthday Traditions You Have to Start Today to see other countdown ideas.
14. Jar Snow Globes
Source Craftaholics Anonymous
Kids will love to do these projects with you and it's so simple to make!
This Providence House Tip: Since I don't have access to baby food jars anymore, I simply use jars with a wide mouth. Salsa jars seem to always have the size I'm looking for. It makes a bigger snow globe and can fit more of a winter scene. Try it!
15. Mason Jar Lid Ornaments
Source Erin Spain
This Christmas décor DIY project is about as easy as they come. What's so nice about it is that you can fill the lid with whatever paper matches your theme for Christmas.
This Providence House Tip: You can use wrapping paper so that your ornaments match your wrapping paper that year. Or am I the only one that likes to color coordinate my wrapping paper to my tree?
Well, there you have it. 15 totally doable Christmas décor DIY. This list should definitely help you start to get your craft on!
Which project will you try today?