Mouthwash
Yes, that's right, mouthwash. It's very effective and so much cheaper then traditional mouthwash. It kills germs fiercely, slaying halitosis. (via One Good Thing by Jillee)
Sanitize Toothbrushes
This tip can be especially handy when someone in the household is sick. Soaking your toothbrushes in hydrogen peroxide kills them all.
Toilet Cleaner
This is true. In my house we actually almost got a new toilet even though the one we had was working perfectly fine. It had an embarrassing stain in the bottom that I just couldn't get clean! My husband let hydrogen peroxide soak in the bottom overnight and in the morning it was if the stain were never there. Amazing! (via One Good Thing by Jillee)
Foot Soak
Did you know peroxide can also help clear fungus from your feet? It also softens callouses, so it's worth it to add some to warm water at the end of the day. (via Wrapped in Rust)
Clothes Whitener
Clothes can sometimes take on a dingy color. Hydrogen peroxide can change that! Simply add half a cup to your load and see the difference. I'll be using this on my whites asap. (via Wrapped in Rust)
Stain Remover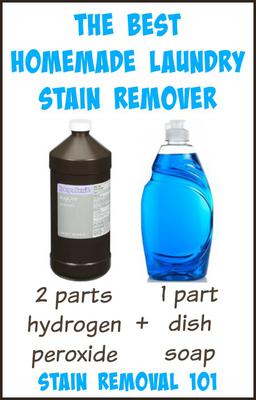 Speaking of clothes, this is the best stain remover you'll ever need or find. Give it a try and you'll never go back! Simply mix in a dark bottle and watch how amazing it is! I also included it a post about stain removers, it's so good! (via Stain Removal 101)
Related: 10 Amazingly Easy Stain Remover Hacks
Ear Cleaner
This really works! Tilt your head to the side with the ear being cleaned toward the ceiling. Fill your ear canal with hydrogen peroxide and wait until you don't hear bubbling anymore. You'll be surprised at how effective this old school method is! (via Instructables)
Clean Make up Brushes
Don't spend your money on cleaner for your makeup brushes when you have hydrogen peroxide in the house. It's so cost effective and really works! (via Apartment Therapy)
Fridge Cleaner
This disinfects while it cleans without bleach or leaving a bad odor. There are so many hydrogen peroxide uses, and this is a great one. (via 101 Days of Organization)
Clean Old Baking Sheets
Don't think you have to replace old baking sheets when they start to look funky. Simply clean with hydrogen peroxide! Simply add baking soda and peroxide to make a paste, spread it on, let it sit, and prepare to be amazed. (via One Good Thing by Jillee)

So, are you impressed with all the hydrogen peroxide uses yet? This is a power house that not only saves you money, but it actually works and it works really well.

Did you know of all the hydrogen peroxide uses? Peroxide is so affordable, and it really works. This is such a great combination for those of us that are conscious of our budget.